MBHS 1938 Football Team
Myrtle Beach High School
1938 Seahawk Football Team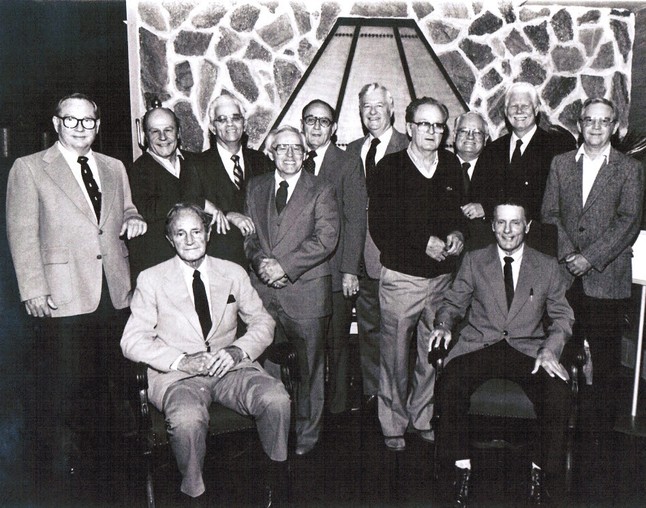 Standing L-R - Dewey Nye, Dewey Bell, Orson Bone, Grady West, Chester Todd
Roy Harrelson, Earl Huggins, Edwin Bone, Andrew Garr, Jack Jordon
Sitting L-R - Ernie Southern & Johnny Harris

Recreated from a Sun News article from Satuary Oct 29, 1983
Wilfrid Binette
1938 Footballers Planning Reunion
It's been a long time since the Myrtle Beach Seahawks played their first football game. It was in 1938, in fact, and several members of that first Seahawk team are making plans for a big reunion to be held October 27 and 28.
Four members of that 1938 team which won two games, tied two and lost three met Friday at a local restaurant to discuss the upcoming reunion.
John Harris, an end, Dr. Holmes Springs known as a glued-finger pass receiver in his playing days; fullback Chester Todd and guard Grady West, talked about their plans.
"We only had 21 players on that 1938 team that was coached by the late L.N. Clark." said West. "We didn't have enough players to hold a full scrimmage so when we wanted to scrimmage, the left side of the line would go against the right side of the line," added West.
The assistant coach back in the 1938 season was Ernie Southern, an accomplished golfer also who stilt gets around on the golf course. The manager was David Springs. They attended the old Myrtle Beach High School which was adjacent to the junior high school and which was located where the new Myrtle Beach Post Office now is. That school burned down during World War II and was replaced. The second school was turned into an elementary school when the present Myrtle Beach High School was built and was later tom down to make room for the present Post Office.
Those four members of the 1938 team had a good time talking about old times Friday afternoon. They recalled stealing chickens and killing them for something to eat. They remembered once stealing a chicken, taking it to the woods where they chopped its head off and then tried to cook it. They said they couldn't cook that chicken long enough to make it tender. Oh, well, kids will be kids and it just goes to show that times haven't changed have they?
Two losses to Loris. That first game ever in Myrtle Beach High School history still stands out in those players' minds. It was on October 6. 1938 and it was played in Loris where Loris scored a 14-0 victory. Then came a game with Conway, Myrtle Beach doesn't have many football victories over Conway in its history," said Harris.
Myrtle Beach's first victory ever in varsity football came on October 27, 1938 when the Seahawks whipped Pleasant Hill by a 7-0 score. But the winning streak stopped at one because the Seahawks went out and tied Latta, 13-13, on their next outing before facing Loris for the second time in the season.
This time, though, the Seahawks held the Lions scoreless in the second half but Loris scored 32 points in the first half to take a 32-13 victory.
Then came a 7-7 tie with Marion and the Seahawks closed out their first season ever in fine fashion as they walloped Union. 59-0.
Starting lineup recalled West brought out the names of the starting lineup like the team had played its first game yesterday. He popped each name out at the 11 starting positions and never batted an eye.
On that starting team 45 years ago, John Harris played left end and Andre Garr was the left tackle. The late Gordon Todd was the left guard and Henry Brock was the center. At right guard the Seahawks had Grady West while Dr. Dewey Nye was the right tackle. At right end was Dr. Holmes "Glued finger" Springs.
In the backfield the Seahawks had Earl Huggins at quarterback and Chester Todd at fullback. The wingbacks were Edwin Bone and the late Charles LA Rue. Leroy Harrison was a part-time starter at one of the end positions and Dr. Dewey Bell also saw a lot of action at fullback. Alternating with Chester Todd, recalled said. Other players on that first Seahawk team were linemen Orson Bone. James Hamilton, Earle Hodge and the late Doodle Turbeville. Reserve backs were Grady Johnson, the late L.J. Veazey, Dr. Jack Jordan and the late David Green.
Anyone knowing the whereabouts of any member of that first team mentioned above should get in touch with them and have them contact either Coach Doug Shaw, Myrtle Beach High School Assistant Principal Bleeker Cannon or any member of the Myrtle Beach High School Booster Club.
The 1938 team members have been invited to ride in Myrtle Beach's Homecoming Parade set for 4 p.m. on Thursday, October 27. They will also be the guests of the 1983 Seahawks at their Homecoming Game here on October 28 when the Seahawks host Bennettsville.
The 1938 team members will meet at Mary Juel's House of Seafood for a dutch affair at 5:30 p.m., prior to the Myrtle Beach-Bennettsville game. Their wife's or guests are also invited to attend the dutch affair.
For more information. contact Grady J. West, A-b Possum Trot Townhouse, North Myrtle Beach. S.C. 29582.